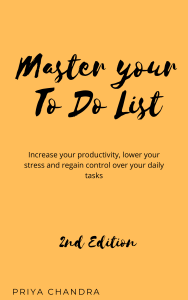 Want to learn how to master your to do list for less than the cost of a soy chai latte? You've come to the right place! My fully revised book gives you a step by step process that really works, using simple, easy to use, free software.
In less than an hour, you'll learn how to increase your productivity and manage your to-do list without increasing your stress or the length of your working day.
So what are you waiting for? Stop procrastinating and hit that buy button to start getting things done both at home and work!