One of the (in my opinion) vastly under-rated features of Google Workspace is Google Sites.
According to Google itself, with Google Sites you can
Build internal project hubs, team sites, public-facing websites, and more—all without designer, programmer, or IT help. With the new Google Sites, building websites is easy. Just drag content where you need it.

Google Workspace Learning Centre
See that little phrase – 'public-facing websites'? That's the short answer to your question: Can Google Workspace host my website? Set up a Google Site through Google Workspace, publish it and boom – one website visible online for everyone to visit and admire.
However, the long answer is a bit more complicated than that. Let's look at the pros and cons of using Google Sites to create your externally facing website.
The Pros
It's Free. The big pro of this approach is of course cost. Google Sites is included in the cost of your Google Workspace installation and so it is completely free to set up.
It's also free in the sense that Sites, and the content you embed in sites, don't count toward your Drive storage quota. If you use a regular website hosting service they will charge you different amounts depending on how much storage you want.
It's pretty easy to learn and use. Google Sites is very much a drag and drop type of set up. It is fairly easy to learn and use through the Google Workspace Learning Centre. Google even provides some templates to help you get started.
It can be collaborative. Google Sites are like any other Google Workspace document – they can be edited in real time and you can also restrict sharing permissions, making the site accessible only to certain people.
It has version control. Like any Google Workspace document, Google Sites has version control and history baked in so you can quickly and easily see who made changes to the site and when. You can also roll back changes very easily.
It's automatically responsive. Google Sites are automatically optimised for viewing on mobile devices (though you can only edit / create them on a computer). Mobile responsiveness is something that a lot of people overlook when creating websites (I know I often curse creators of unresponsive websites!) and having this built into Google Sites is a fantastic feature.
The Cons
It's meant for specific use cases. Google Sites aren't really meant to be a full-featured ecommerce website. They started out as an option to create internal websites, and even though they can be set up as externally facing websites, it's not their main purpose. So, if you're looking to do ecommerce through your website, this isn't the best option.
You're limited to Google's themes. Again, since Sites was designed for small, internal websites the themes are quite limited in scope. And unlike WordPress or Drupal there's no ability to create personalised or specific themes for a website.
No user comments section. Ok, this may be a pro for some people but there's nowhere in Google Sites for people to leave comments. If this is something you want for your website, you'll have to view this as a negative.
The default URL is pretty ugly. By default, a public Google Site will have a URL that looks something like this: sites.google.com/domainname.com.au/yoursitename. It's not the best URL for search engine optimisation; people looking for your site; brand recognition etc.
It is possible though to change the URL via the Admin Console to something that is a bit more user-friendly. A customised URL will look like: yoursitename.domainname.com.au so it is still a little unwieldy but not as bad as the default.
So should you make your website through Google Workspace?
Well, it really depends on what you're looking for in a website. If you want a full featured online store to sell products and/or services 24/7 then Google Sites is probably not going to work for you. Similarly if you're looking to set up an online forum type site then Google Sites is not the software you are looking for.
However, if you're after a website where you can publish articles/videos; advertise your products and services; take bookings for events (including consulting work); display a portfolio of work; generate leads and/or generally publicise your business then Google Sites is probably worth looking at.
More information
Check out the Google Workspace Learning Centre for a step-by-step guide on creating a Google Site in your business. There's also a Help Forum if you're looking for more support.
However, neither the guide or the help forum explains how to customise the URL though as both are designed for the end user. To customise a URL so it's not the default sites.google.com etc you need to:
In your Admin console go to Apps / Google Workspace / Sites.
Scroll down and click on Custom URL
Click the + sign and select New Sites.
Click Continue.
Enter the current URL for the site in the format sites.google.com/domainname/sitename
Click Continue.
Enter a custom URL for the site – though be aware that you'll be limited to the format yoursitename.domainname.com.au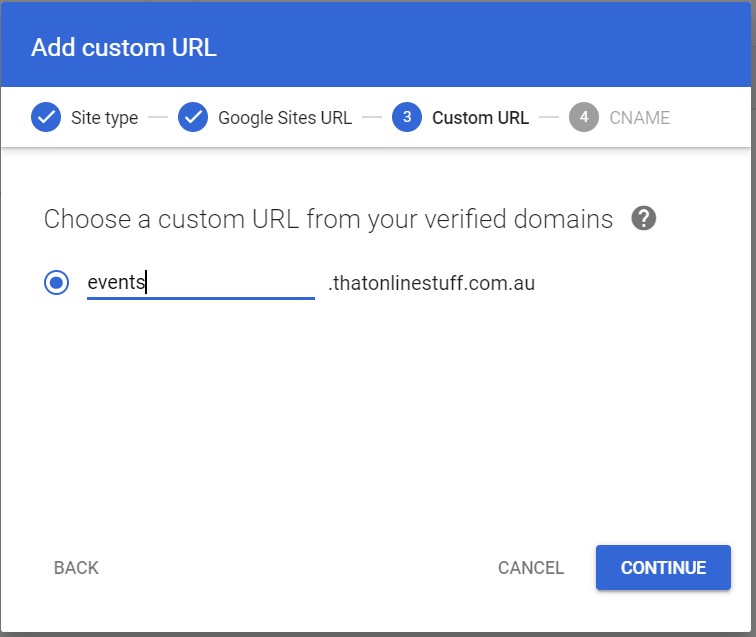 Click Continue.
Follow the steps to set up the CNAME record with your domain host.
Click Add Custom URL.
Notes:
You can create up to 2,000 custom site addresses with your Google Workspace account.
People can only see the custom URL if the site is shared outside of your organisation. If the site is shared with specific people or only within your organisation, everyone sees the original URL, such as sites.google.com/domainname.com.au/yoursitename, instead of the custom URL.
You still need to register your domain name – either through Google Domains or any other domain registration service.
---
Want more personalised help?
I hope this article was of assistance to you, but if you want more personalised help then why not get in touch?
I specialise in helping small business owners just like you work better with Google Workspace so you can save time and money by streamlining your business processes; increasing your productivity; and improving client and employee comunications.