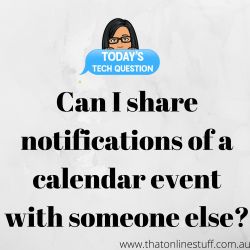 This is a question I see a lot and the short answer is no, it's not possible to share notifications of a calendar event with someone else. And personally, I think this is a good thing.
Regardless of what calendar an event attendee is using, they have the freedom to set their own notifications to suit their own schedules and preferences – I for example like to get two reminders for really important events, whilst someone else might prefer only one reminder or even a series of reminders spaced out over a period of hours/days.
Got more questions? Get in touch to find out how I can help you with your G Suite and Google related issues and drive better business outcomes.