This is a question I see a lot and the short answer is no, it's not possible to share notifications of a calendar event with someone else. And personally, I think this is a good thing.
Regardless of what calendar application (Outlook, Apple, Google Calendar, Thunderbird) an event attendee is using, they have the freedom to set their own notifications to suit their own schedules and preferences.
I for example like to get two reminders for really important events, whilst someone else might prefer only one reminder or even a series of reminders spaced out over a period of hours/days.
But wait, all is not lost!
Ways to notify other people of an upcoming event through Google Calendar
You can still remind people of an upcoming event through Google Calendar even if you can't enforce a reminder at their end.
The first way is by sending them an old-fashioned email – this is a great option if you're hosting a webinar or something similar and would like to remind attendees of the event.
This option will work regardless of whether you're using the free version of Google Calendar or the paid (Google Workspace) version in your business.
This option is also available for events that have been created through Google Workspace Appointment Slots.
Steps to remind people of a Google Calendar event via email
Step #1: Access Google Calendar and click or tap on the event.
If you're using your desktop/laptop click on the email icon (highlighted in green).
If you're using the Google Calendar mobile app tap on the More menu (3 horizontal dots next to the pencil icon) and then tap on 'Email Guests'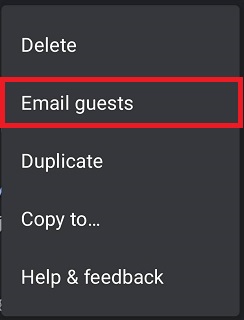 Step #2: If you're using the web interface you'll see the following screen which will have all guest email addresses pre-added. You can remove or add email addresses – but remember that Google Calendar does enforce sending limits and if you try to send an email to too many people you may end up being flagged as a spammer.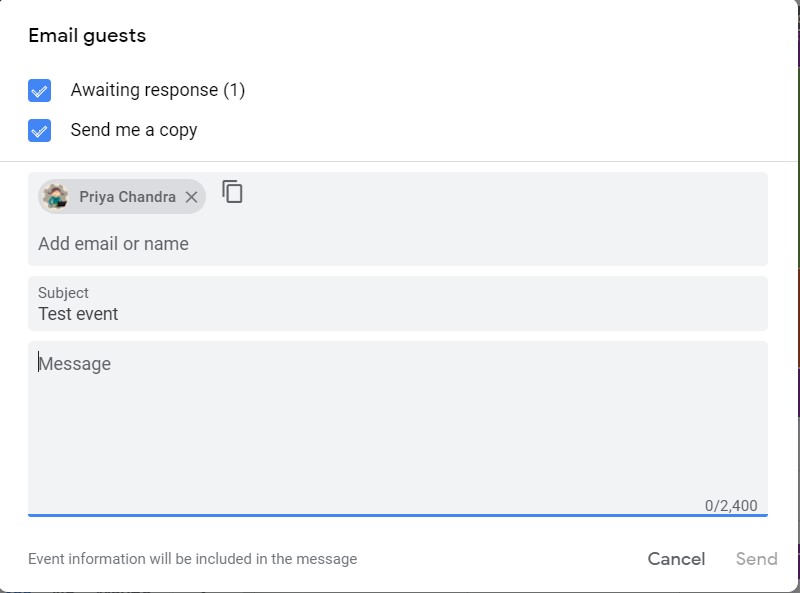 If you're using the Google Calendar mobile app you'll see the following screen. Tapping on any of the options will open the Gmail mobile app with email addresses pre-filled and the text in the email body field. Obviously if you tap on 'Write your own' then there's no text in the body of the email!
What other ways are there of notifying people of an upcoming event?
If you're using the paid version of Google Calendar and all your attendees are in your business, then you can use the automatic Google chat feature that Google Workspace offers.
This feature automatically creates a conversation shortcut at the top of the "Chat" section in Google Chat and 'Chat in Gmail' on both mobile and web 10 minutes prior to any meeting. You can use that chat session to remind people if they need to bring anything to the meeting or even advise if you're going to be late etc.

Sadly this feature only works if the attendees are within your Google Workspace domain – which makes it pretty useless for sole traders and most small business owners
And the final option – using mobile chat
This option is really only feasible if you've only got one other person or maybe two other people attending the meeting or event.
Step #1: Tap on the event on your Google Calendar mobile app
Step #2: Tap on the person you want to contact and then tap on the chat icon (outlined in red in the screenshot).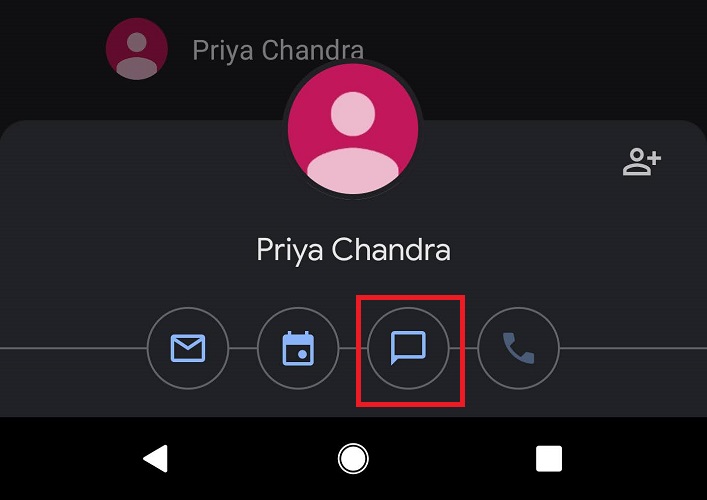 Step #3: The Google Chat app will now open and you can remind the guest of the upcoming event or let them know you're going to be late etc.
For some reason, you do need to have Google Hangouts downloaded on your phone to make this option work even though Google Hangouts is being replaced by Google Chat (crazy Google messaging systems).
If you don't have Google Hangouts on your phone, you'll be sent to the Play Store to download it after you tap on the Chat icon. Once you download it, return to the Google Calendar event and follow the steps again to get to the Google Chat application.
So there you have it – 3 ways to remind people about an upcoming event
Even though you can't enforce certain notifications on people it is still possible to remind them of the upcoming meeting. You can either:
email them;
use the automated Google chat feature if you're in a Google Workspace environment; or
use the Google Contact chat function on your phone to contact individual guests.
Hope this helped!
Let me know in the comments below if this did / didn't help you; or if there's anything in particular you'd like me to address on Google Calendar; Google Keep; Google Tasks or managing Google Workspace in general as a small business owner.
Get more usable and practical advice
Learn how to tap into the full potential of Google Workspace on your own terms, at your own pace, without neglecting your actual business.
Sign up for the weekly newsletter. Published every Sunday night to set you up for the week ahead. Designed and written by a small business owner for small business owners.