One of Google Workspace's great strengths is the ability to create 'alias' email addresses – like sales@mydomain; info@mydomain; billing@mydomain etc.
Unfortunately however Gmail's automatic 'out of office' setting doesn't apply to these alias email accounts. If someone emails sales@mydomain for example they won't get any notification that you're away from your email – which is definitely not good customer service!
It is very easy to create a workaround for this situation though using Gmail Templates and filters.
Step One – enable the Templates feature.
(If you've already done this, then skip down to Step Two – Set up email template).
On your computer open Gmail, click on the Cog icon on the top right-hand side and then click on See all settings

In Settings click on Advanced and next to the Templates option click the Enable radio button

Scroll to the bottom of the screen and click on Save Changes.
Step Two – set up email template
Again, if you already know how to set up templates then skip down to the third step – create a filter and send the automated response.
In Gmail, click on Compose and then draft the email you'd like people to receive in your absence.
Then click on the three vertical dots (More options) in the bottom right hand side of your email compose screen.
Click on Templates > Save draft as template > Save as new template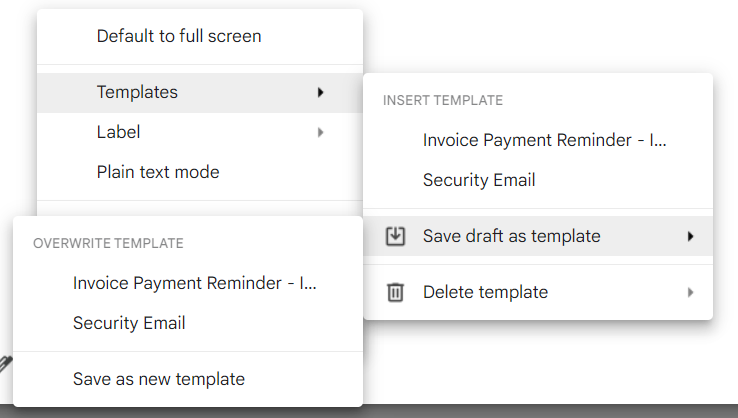 Type in a template name and then click Save

Step Three – create filter and send the automated response
Once the template is created, here's how to create a filter to automatically send your out of office template to everyone who emails you:
Click on the filter icon on the search bar of Gmail

In "To" field enter all the email addresses you want to include in this filter. Separate them by
Click Create filter and from the next screen click on Send template and choose the template you created in Step Two.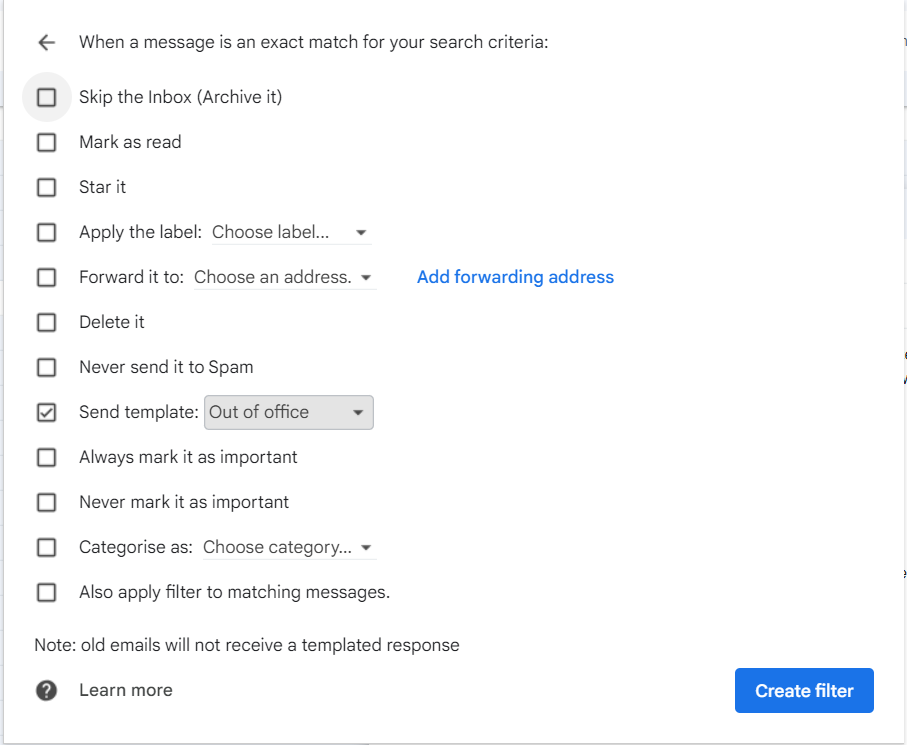 You might also want to Mark as read, Star it, or Apply a label to indicate that this email came in whilst you were away, and would have received an automated response from you.
Click on Create filter once again.
Now when anyone emails any of your email addresses they'll get the template as an automated response.
Step Four – Turn off the automated response
This is really important! Unlike Gmail's in-built out-of-office feature, there's no way to set up an end date for this filter (or indeed any filter). So you need to delete the filter once you no longer need it:
On your computer open Gmail, click on the Cog icon on the top right-hand side and then click on See all settings

In Settings click on Filters and blocked addresses and scroll down the list of filters until you see the one matching your out of office filter.
Click on Delete and then OK.
Sadly, there's no way to 'pause' a filter. You will need to delete it, and then set it up again the next time you want to send this particular template as an automated response.
---
Want more personalised help?
I hope this article was of assistance to you, but if you want more personalised help then why not get in touch?
I specialise in helping small business owners just like you work better with Google Workspace so you can save time and money by streamlining your business processes; increasing your productivity; and improving client and employee comunications.