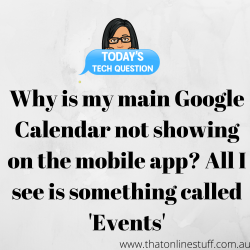 Ok, this is confusing but that 'Events' calendar on the Google Calendar mobile app? It is your main Google Calendar.
Basically, for some reason known only to Google, no matter what you call your default calendar on the laptop (and you can call it anything you want there) it will always be named 'Events' on the mobile app.
Got more questions? Get in touch to find out how I can help you with your G Suite and Google related issues and drive better business outcomes.