One of the things I like most about going digital is having the ability to take notes and get reminders about things no matter where I am.
No more looking for paper or a pen; no more scribbling a phone number on the palm of my hand; no more searching for that Post It note with the thing I had to do today written on it.
And the digital method I've chosen is Google Keep.
So let's get started with Google Keep including its benefits; how to install it as a mobile app; how to use it on the web and crucially, how to use it!
Benefits of Google Keep
There are a number of benefits that Google Keep offers:
Free. This is a massive selling point for me. Whilst many productivity applications / software products might start off free, they are either ad-supported (meaning you get ads in the application as you use it unless you pay for a non ad-supported version) or they reserve their best tools for the paid version.
Google Keep doesn't show any ads at all and it is completely free. And whilst that might change in the future, at the moment I'm very happy not seeing any ads at all.
Ongoing support. Although it is free, Google Keep does have online support available, either through Help Articles or through volunteer forums. Any time I have a question I can use one of these resources to find an answer.
Convenience. Google Keep can sync across all your devices (mobile, tablet and desktop) with minimal effort on your part. And because Google Keep is tied to your Google account, you can even log into your account on someone else's computer (like at a library or friend's house) and access your information without any problems.
Device agnostic. You can use Google Keep on smartphones running Android or iOS operating systems; on a PC or a Mac and via any type of Internet browser.
And I'm sure I don't even need to mention the Search functionality which not surprisingly, is excellent.
Three things you'll need for Google Keep
To access Google Keep you'll need the following things:
Google Account
Google Keep app if you're using it on your mobile device
Web browser
Google Account
To use Google Keep you will need a Google account. If you have a @gmail.com email address, use Google Workspace, or are an Android phone user then you will automatically have a Google account and can access Google Keep.
If you are not sure if you have a Google account, then go to
https://www.google.com/accounts/ForgotPasswd, select 'I don't know my password' and then enter your email address.
If there's no Google Account associated with your email address, you'll get a message that says 'No account found with that email address' you entered. If there is a Google Account associated, then you'll be given the opportunity to re-set the password at this point.
To create a new account, go to https://www.google.com/accounts/NewAccount and follow the steps to create a new account.
Remember, you don't need to have a Gmail address to create a Google account – you can use any email address that you have access to.
For more information on Google Accounts check out their FAQs.
Google Keep app
Ok now that you've got your Google account sorted you'll need to confirm you have access to Google Keep.
If you have an Android phone or tablet, then Google Keep should already be installed on your phone. If not, then you can install it from the Google Play Store.
For the iPhone and iPad the Google Keep app can be downloaded from the App Store.
Web browser
Google Keep is primarily an online service and in order to access it you will need a web browser – either Chrome, Firefox or Internet Explorer.
I recommend (and use) Chrome as it is developed by Google and also there are a couple of number of extensions that you can install to make Google Keep even more powerful.
Right, let's get started with Google Keep
Access Google Keep on the web or by opening the app on your mobile device.
To make it a bit easier I'm going to discuss website use first, and then how to use the mobile app.
Using Google Keep on the web

Click into the box at the top, titled "Take a note…"

The note will open with the cursor in the Body section of the note. You can choose to enter a title or just start typing in the body. You can have approximately 19570 characters in a Google Keep note.

Once you've finished creating your note click Close to save and close the note. Your note is now available wherever you log in with your Google account whether that's another computer or your phone.
There's a number of other actions you can take in the Google Keep note as well
Set a reminder for a specific time or place
Share the note with someone (Google calls this 'add a collaborator)
Change the background colour of the note
Add an image to the note from your computer
Archive the note which will remove it from the main view
Menu has more actions: delete note; add label; add drawing; make a copy; show tick boxes; copy to Google Docs
Undo any text you've typed or the most recent action you've undertaken
Redo the most recent action you've undertaken
Pin the note – this will keep the note at the top of your Google Keep screen regardless of how many other notes you create

Using Google Keep via the mobile app
Open the application from the Home screen or the app drawer. Tap the floating action button to create a new text note or tap on one of the note types to
create a check list
create a note with a drawing
dictate an audio note or
create a note with an image either from your gallery or by taking a photo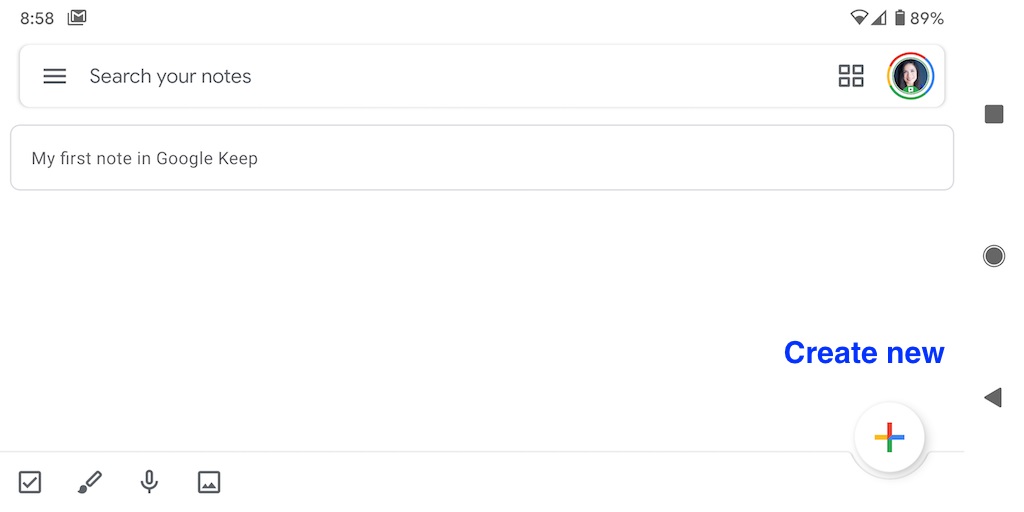 Once you've finished creating your note tap the Back Arrow in the top left of the screen to save the note and close it. And just like on the computer you can pin a note; add a reminder; and archive the note.

The menu item at the bottom right of the screen also has some additional functionality:
Delete the note
Make a copy
Send the note via other apps like email; WhatsApp or text message (this is only available on Android devices)
Share the note with someone (Collaborator)
Add or remove labels
Change the background colour of the note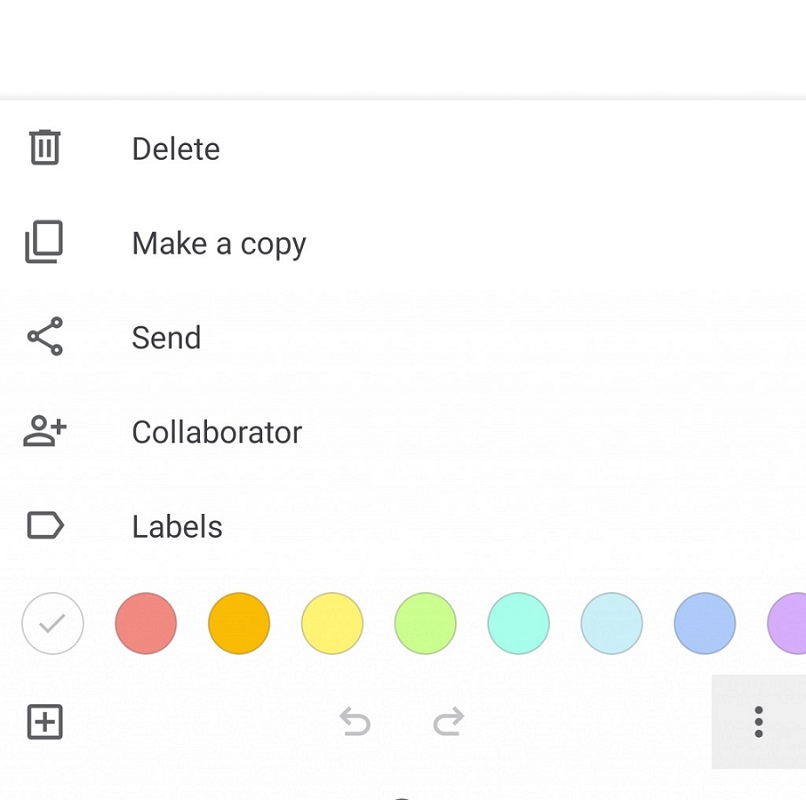 And that's it!
You've now gotten your hands on one of the easiest note-taking tools around – enjoy playing with it and the freedom that going digital brings to you as a small business owner.
Get ready to be more productive in 2023
Want to learn how to master your to do list for less than the cost of a chai latte? You've come to the right place! My fully revised book gives you a step by step process that really works, using Google's simple, easy to use, free software.
In less than an hour, you'll learn how to increase your productivity and manage your to-do list without increasing your stress or the length of your working day.