Do you have multiple domains that you're managing? I've got quite a few myself and it was pretty exciting the day I realised I could add them all to Google Workspace – no more switching between accounts to answer emails or wondering why I couldn't find a specific Google Doc (spoiler, it was in the 'other' account).
And today is hopefully your lucky day as well where I show you how to add a secondary domain or a user alias domain…
Hang on, secondary or user alias domains? What am I talking about?
Yeah I know, it's confusing – sorry about that. Let's back up a little bit and explain each of these in more detail.
Secondary domain = you pay for each user account that is added to that secondary domain, and they get a full, completely separate Google Workspace account. You'd use this if you were a large company with multiple brands, and different employees working for those multiple brands. Think Unilever – a company that covers multiple brands like Dove; Vaseline; and Sunsilk and whose employees are all working within those brands quite separately.
You can add upto 599 secondary domains to a single Google Workspace installation.
User alias domain = no extra cost per user; and users just get an email address at the other domain. You'd use this if it's just you, or a couple of people, working for a couple of different brands. This would be the case for most solopreneurs who are perhaps managing a number of side hustles all by themselves.
You can add upto 20 user alias domains to a single Google Workspace installation.
Add a domain to your Google Workspace account
Go to Manage domains in your Google Workspace Admin console.
Click Add a domain.
Enter the name of the domain you're adding.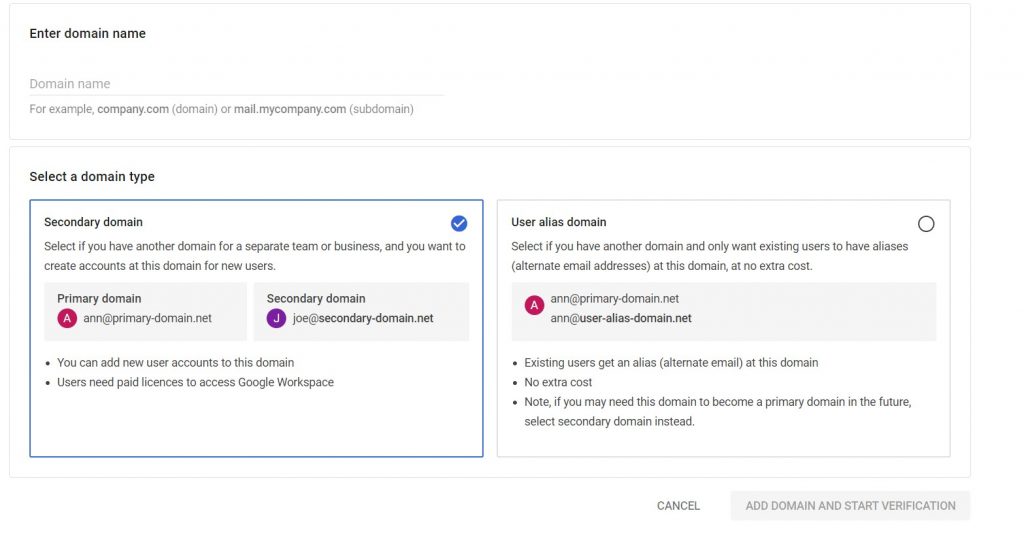 Select a domain type. The default is for 'secondary domain' so if that's not what you want make sure you click on 'user alias domain' instead.
Click Add domain and start verification. Follow the instructions to verify that you own the domain. These will vary depending how where your domain is hosted.
Once your domain is verified, return to Manage Domains and click Activate Gmail next to the newly added domain.
Follow the instructions to set up Gmail for your new domain.
Send and receive messages with your alternate email address
Once you've activated Gmail on your user alias domain users will be able to almost immediately use their new alternate email addresses to send and receive messages.
Send messages from your alias address
To send an email message from the alternate domain, first add your alias address to your Gmail account.
On your computer, open Gmail.
In the top right, click Settings See all Settings.
Click the Accounts and Import or Accounts tab.
In the "Send mail as" section, click Add another email address.
Enter your name and your alias address. The alternate email address will follow the same naming convention as your primary emails. So, if your primary email was priya.chandra@thatdomain.com, the alternate email address will be automatically created as priya.chandra@thisdomain.com.
Check the Treat as an alias box.
Click Next Step and follow the confirmation steps.
Now, when you send a message in Gmail, click From
to select your alias address.
Receive messages at your alias address
Messages sent to your alias address will automatically arrive in your inbox. To test, send a message from another account (not your Google Workspace account) to your new alias.
If you don't receive the test message within 48-72 hours, contact your domain host. They can check whether your domain verification and MX records (for email) have been set up correctly.
Adding alias specific signatures
Once you've set up one or more email aliases, then you may want to also set up specific signatures for each address.
Removing a user alias domain
If you decide that you don't want to have a particular domain associated with your Google Workspace, it is possible to delete it entirely.
Before you do this, if you are removing a secondary domain:
Regardless of whether you're removing a secondary domain or a user alias domain, if you want to keep receiving email at these addresses you will need to ensure the MX records have been changed.
Once you've done that (if necessary) go to Manage domains. In Manage domains, scroll to the domain you're removing, and click Remove / Remove domain alias.
Reusing your domain
Usually, you can reuse a domain's name in your current Google Workspace account within 30 minutes of removing it. However, if the domain had a large number of users, you might need to wait up to 24 hours.
Note: To use the domain for a new Google Workspace account, you might need to wait up to 48 hours.
FAQs about multiple domains and alternate email addresses
What's the difference between adding a user alias domain and an alias email? Adding a user alias domain creates the ability to have email addresses like: priya@thisdomain.com and priya@thatdomain.com. An alias email would be simply info@thisdomain.com – there's no ability to link to any other domains you might own.
Why can't I add a secondary / user alias domain to Google Workspace? If you recently removed this domain from another Google Workspace account, then you may need to wait up to 24 hours before adding the domain. Check out Google's troubleshooting tips.
Why can't I log into Google Workspace with my alternate email address? Access to Google Workspace is limited to the primary domain email address that you originally set up for yourself or for other users. The user alias domain email address is simply another way to send and receive emails.
If someone sends a Google Calendar invitation to my alternate email address can I RSVP using that email address? No. Google Calendar invites, RSVPs to events, and calendar sharing emails are sent only from your primary domain address.
---
Want more personalised help?
I hope this article was of assistance to you, but if you want more personalised help then why not get in touch?
I specialise in helping small business owners just like you work better with Google Workspace so you can save time and money by streamlining your business processes; increasing your productivity; and improving client and employee comunications.