What do you mean 'working hours'?
To let people in your organisation know you're unavailable when they try to schedule a meeting with you, Google Calendar has a feature called "Working Hours". If you set your working hours in your Calendar Settings then if someone schedules an event outside those working hours they'll see a moon label next to your name, indicating that this meeting is outside your pre-set working hours.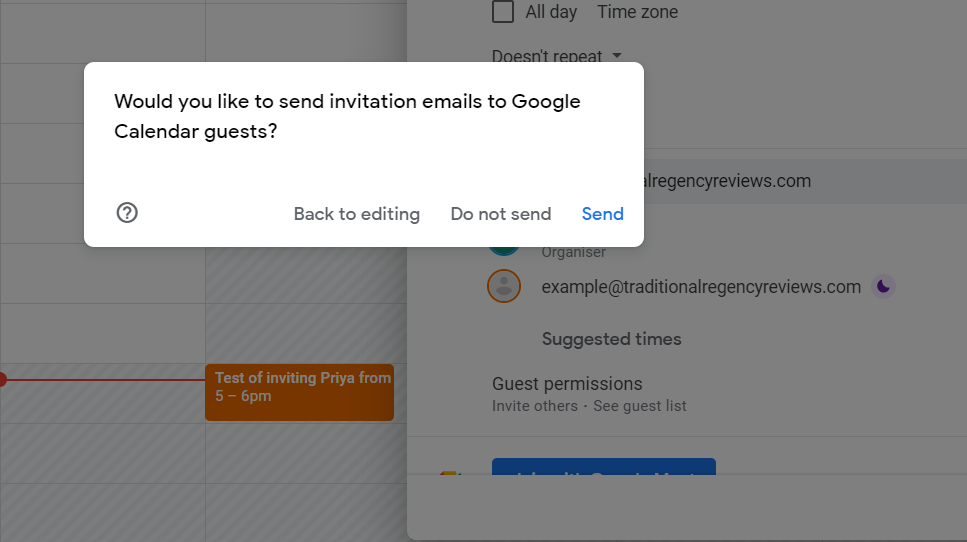 Note: this only shows up after they've clicked on Save, so technically there's an opportunity for them to go 'Back to Editing' to change the date / time of the meeting but I don't know how many people actually do that to be honest.
If you look closely at the above image, you'll see that some of the times in the calendar have been marked off in grey. These are the times that the guest (whether that's you if someone else is setting up the meeting; or your own guest) has set as outside their working hours.
But I can't see those grey boxes in my own calendar and I want to
However, if you look at your own calendar when trying to set up meetings, you won't see any greyed out blocks at all.
That can be annoying for people who want to see their working hours quickly, perhaps because they're trying to set up some time with someone outside their organisation and need to clearly see what their working hours are, without going to the Settings section of their calendar.
So, how to fix this? Can it be fixed? Well, it can't be fixed as such – Google has set it up so that users can't view their own working hours in the Calendar view – but it can be worked around.
Click on Create / Event on your Calendar (note this has to be done from your desktop or laptop, not via the Calendar mobile app).
Then click on Find a time

The event creation box will automatically dock to the left hand side of your screen and you'll then see sections of the day cross-hatched out – these are the times of the day you personally are not available, as per your pre-set working hours.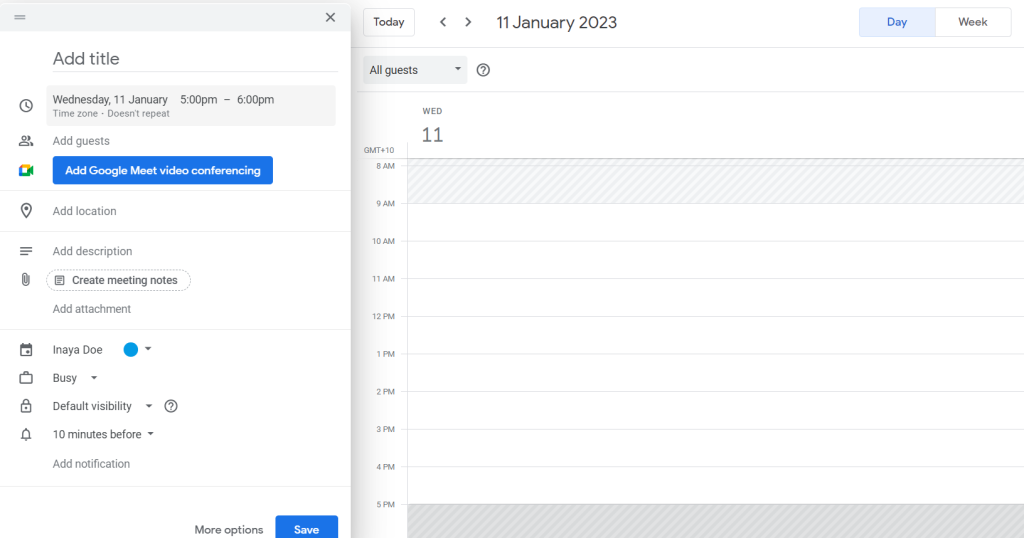 Now, you can decide when you want to have your meeting, knowing you won't violate your pre-set working hours.
Some FAQs about Working Hours
Does this work if someone outside my organisation is inviting me to an event? No, if someone outside your organisation tries to set up a meeting outside of your normal working hours, they won't see any warning messages at all even if they too are using Google Calendar.
Can I automatically decline meetings that are sent outside of my pre-set working hours? No, you can't do that. If you want to automatically decline meetings then you need to use the Out of Office feature (available to Business Standard and Business Plus users)
Why can't I see an option to set Working Hours in my Google Calendar settings? There's two reasons for this:

You're using the free version of Google Calendar which doesn't support this feature.
Your administrator hasn't turned it on. If you're the administrator and you'd like to turn on this feature:
---
Want more personalised help?
I hope this article was of assistance to you, but if you want more personalised help then why not get in touch?
I specialise in helping small business owners just like you work better with Google Workspace so you can save time and money by streamlining your business processes; increasing your productivity; and improving client and employee comunications.