Get the most from your Google Workspace investment with usable and practical training
Latest Articles
What is That Online Stuff?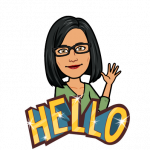 Well at its core it's me (Priya) looking to help you (the non-technical small business owner) get more out of your Google Workspace investment, both as an administrator and an end user.
Make the most of your Google Workspace investment
Small business owners wear many hats including that of Google Workspace administrator but I'm betting that's not your most favourite role! However it is mine – in fact I love helping small business owners get the most out of their Google Workspace investment.
And one way I do that, is by sending you all the tips, news and resources you need to run Google Workspace in your small business, so you can spend less time on 'all that stuff' and more time running the business you love.
Published every Sunday night to set you up for the week ahead. Designed and written by a small business owner for small business owners.