How to propose a new time in Google Calendar as a guest
So the first thing to be aware of is it doesn't matter if you're using the paid version of Google Calendar, or the free version, this feature is available to everyone.
As an attendee if you want to propose a new time:
On your calendar, click the event.
Next to "Maybe," click the Up arrow Propose a new time.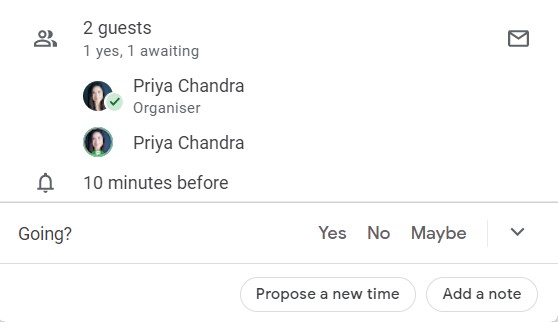 Select a different time or day. You can also add a message to your proposed time. This note will be visible to the organiser and all other guests though so don't write something in there you might not want other people to see!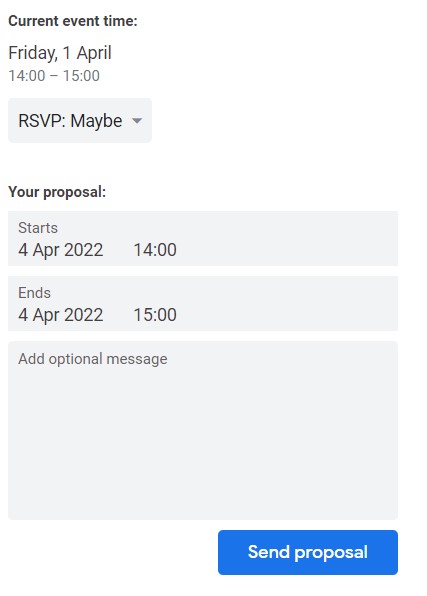 Click Send Proposal. Now when you go back to your calendar and click on the event you'll see that your proposed time is shown at the bottom.

To propose a new time from an email invitation, at the top of the email, click More options
Propose a new time.

Trick for young players: The event stays in its original date / time location until the organiser accepts the proposed changes. So if you've said you'd prefer an alternative date or time, you'll need to put a placeholder event in that spot to ensure you don't accidentally double-book yourself.
How to accept a suggested time change as the organiser
On your calendar, click the event with a clock icon.

Under "Guests," you'll see any notes from guests as well as proposed times.

Under the time proposal you want to review, click Review proposed time. You'll now see your own calendar at the proposed time/date to see if it suits you.
To change the event to the proposed time, click Save.
If you've got 'Event Responses' turned on in Google Calendar settings then you'll also get an email with the proposed new time from your guests.

Tip for young players: As an organiser you can't propose a new time but you can simply change the date or time of the event and send an update out if you need to.
---
Want more personalised help?
I hope this article was of assistance to you, but if you want more personalised help then why not get in touch?
I specialise in helping small business owners just like you work better with Google Workspace so you can save time and money by streamlining your business processes; increasing your productivity; and improving client and employee comunications.