Are you wondering why you're able to send emails through Google Workspace but not able to receive them?
This might be a new problem, or perhaps it's been a while since you've received any emails. It's definitely not a good situation to be in as a business owner and this article will not only explain the two reasons why this might be happening but how to fix it.
So read on to learn how to start receiving emails through Google Workspace's Gmail once again!
Reason one for why you might be not receiving emails: time
The first is simply time. It can take up to 48 hours for any changes to your MX records to filter through the internet. So if it's been less than 48 hours since you set up Google Workspace and activated Gmail, set yourself a calendar task to come back after 48 hours and check again.
(MX records are like snail mail addresses – they tell computers where to deliver your email and sometimes it can take a while for all connected computers to get the message).
Note: Until the rest of the internet notices your new MX records, you'll still get email messages in your old email client so don't dispose of that login just yet!
Reason number two for not receiving emails: MX records
If you've waited 48 hours and you're still not receiving emails in your Google Workspace email, then it's very likely that your MX records are not set up correctly. Think of it as if you'd accidentally given someone the wrong postal address – you're still able to send out mail without a problem but nothing gets delivered to you.
Follow these steps to get the situation resolved, and start receiving emails again:
Step one: Check that your MX records are set up correctly
The first thing to do is check that you've set your MX records up correctly and are actually pointing to the Google mail server.
Go to Google Admin Toolbox Check MX and enter your domain name.
Click on Run Checks! If the response looks like the below image then you've got an issue with your MX records and you'll need to follow the next few steps.

However, if the response looks like either of the below images AND you're still not receiving email even though you've waited more than 48 hours then check out the Google Workspace email troubleshooter wizard.


Step two: Fix your MX records
Make sure you have the Google Workspace set up tool open. You may need to sign into your Google Workspace Admin account first to access the tool.
In a new tab sign into your domain registrar with the account and password you use to manage your website.
Go to the section where you can update your domain's MX records. This is usually called "DNS settings"; "Manage DNS"; "Mail settings"; "DNS Management" or similar.
Review your existing DNS records and delete any non-Google MX records that might already be there. (You'll know if they're non-Google as they won't have the word 'Google' in the MX details at all).
Then create a new record by clicking on 'Add' or similar and fill in the fields for the new MX record:

Choose MX for the type of record.
Look for a field labeled Name, Host or Alias and put '@' in there.
Leave the default value in the field titled TTL.
Find the field labeled Record, Value, Answer, Destination, or Server, and then enter 1 as the Priority and smtp.google.com in the description field.
Click on Add and/or Save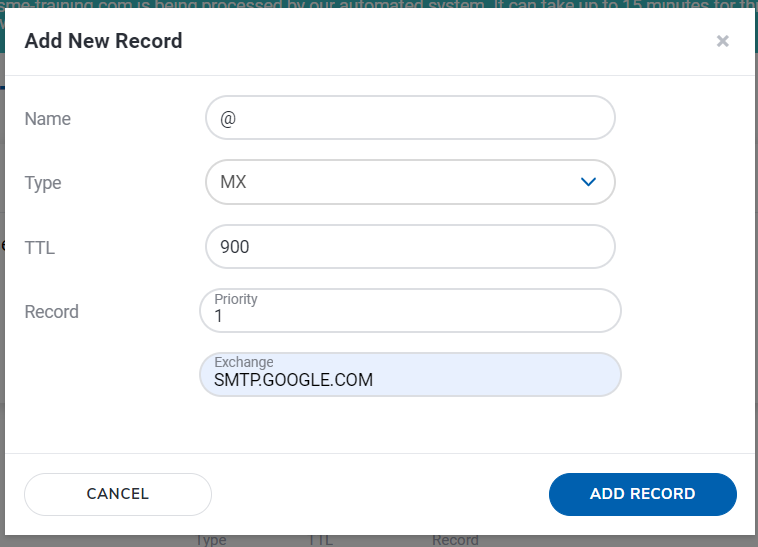 Return to the browser tab with the Google Workspace Set up Tool.
Click in the Verification Code text box – this will automatically copy the verification code.
Switch back to your domain registrar tab and create a new MX record.

Choose MX for the type of record.
Look for a field labeled Name, Host or Alias and put '@' in there.
Leave the default value in the field titled TTL.
Find the field labeled Record, Value, Answer, Destination, or Server, and then enter 15 as the Priority and paste the verification code in the description field.

Return to the Google Workspace setup tab and click on Activate Gmail
Google will now try and locate these records in your domain registrar setup which is usually less than 5 minutes but can take up to an hour. Once it's all done try sending an email to your Google Workspace email address from a non Google Workspace account to confirm you're now receiving emails ok.
Step three: How to check you're able to receive emails
The best way to check that everything is working is from an account that isn't linked to your Google Workspace.
This can be either your personal Gmail account; or you could ask a friend – simply send an email to your business email address and then check both the business inbox and spam or junk folders.
You can also send an email from your new business email address to your personal Gmail account and then reply to it – that way you know definitively that you're able to both send and receive emails.
DON'T send multiple emails from your personal account though in a short period of time – you run the risk of that account being marked as a spammy account! Just send one immediately after you activate Gmail or make the changes to the MX records, and then again every couple of hours.
---
Want more personalised help?
I hope this article was of assistance to you, but if you want more personalised help then why not get in touch?
I specialise in helping small business owners just like you work better with Google Workspace so you can save time and money by streamlining your business processes; increasing your productivity; and improving client and employee comunications.